With the new technology trends and advancements, it's almost impossible to say no to something that can make things easier for you in the business process. Procurement Automation software is one of the most vital software requirements that you should be checking out soon if you are a growing small or medium enterprise business.
The terms Purchasing and Procurement are often used close to each other, while they hold a slightly different series of processes.
In any business, there are requirements of goods and services, either for external purposes (mostly with firms involving manufacturing or remanufacturing) and for internal purposes (goods/services used with daily operations within a business environment).
The process of obtaining these goods with a series of events can be addressed as the purchasing process, wherein the processes like requisition to purchase order generation, receiving the goods, and invoice approval and payments for the same can be referred to as Procurement.
Every organization can have its own set of contexts for this process based on its business operations. The procurement process cycle is important to be followed in a pattern that itself makes it complex.
The first step is the identification of requirements which is followed by the generation of PR (Purchase request or purchase requisition), which once approved by the Procurement department takes the form of a PO (Purchase Order). Once the PO is ready, there is an RFQ (Request for Quotation) that is sent to various Vendors to get their quotes and offerings and then begins the comparison phase for the department where they need to compare all the quotes to get the best deal in hand.
Once a supplier is selected, there is a negotiation of a deal which finally leads to an agreement between both the parties if things are falling towards the positive. This agreement is known as the Contract which in general contains all required information about the supplier and the deal, including the price, description of goods/services, the quantity and time of delivery, and other terms and conditions. Once this is all in place and the order is received, the invoice generation, approval, and payment come up in the line.
With the above sequence of procedures, there is complex accounting and paperwork involved which needs to be taken care of on both ends for a smooth business operation. And here comes the need for robust procurement automation software to capture all the information and documents in this complex business process right from the beginning to the final payment.
What is Procurement Automation?
Procurement automation refers to automating all the manual processes that are repetitive and time-consuming. Procurement automation speeds up the process by using automated request generation and letting them flow smoothly between departments for approvals which saves a lot of time and effort for your team and makes the whole complex process streamlined with a seamless experience.
Procurement automation software is a digitally accessible hub that includes all your procurement to pay needs and saves data at every point of the process. A procurement automation software brings the whole procurement process online with multiple access ie to the team as well as vendors respectively on their part. Such software helps the team to get more time to focus on the strategic part of the business operations planning and management and also helps reduce cost and savings increases.
The procurement process has been through multiple phases of evolution when it comes to the strategic management or the technological advancement part.
In the beginning, paperwork was used to record data, then spreadsheets were used to store the data, then on-premise management systems, and eventually SaaS-based hassle-free systems with high scalability, efficiency, and flexibility were utilized.
Now it's 2022, and we see procurement more as strategic procurement, considering every redundant and time-consuming task to be taken care of by automated systems.
The ultimate question to ask is whether your business needs procurement automation software. Before adopting top procurement software, it is necessary to analyze your automation requirements, but in addition to this, several factors can affect this decision for you.
If you see the smaller picture, you will have certain points to notice like, your team is having a lot to do manually, and there are transparency issues, information gathering from various vendors, and storing the same for the management making things worse for them , so and so.
Well, you can have a view of why to care for the department if it's their job. But, coming back to the organization's goal you had the answer that yes, you care!
Statistics speak out that procurement professionals spend more than 30% of their time doing routine tasks which usually involve creating, approving PRs, POs, reviewing quotes, and all. In this highly competitive market, everyone wants to get the best in their hands and you will never want your department to struggle with things that don't let them focus more on the brighter side of cost-cutting and savings with a process like Procurement.
So when it is the right time to automate your process if not now!
Benefits of procurement automation software
When you actively incorporate automation software into your business processes, you receive various benefits. Let's mark the core benefits that any business start to witness with procurement automation projects on run-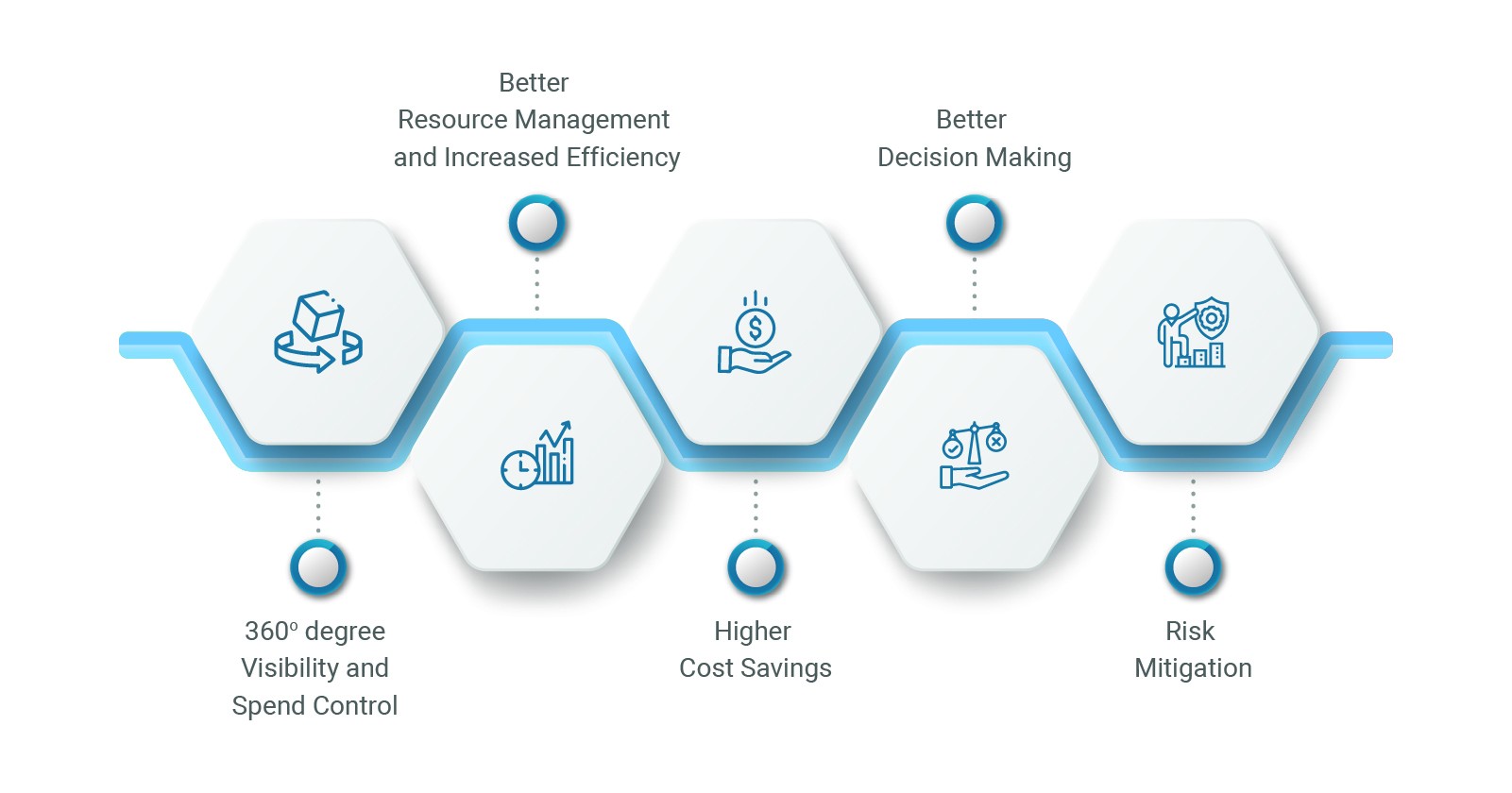 1. 360-degree Visibility and Spend Control
Procurement automation allows you to gather all the necessary information at every step involved in your function from sourcing to final pay, and this information is easily accessible from any touch point within seconds.
You have your supplier data and costs, and complete insight into your overall process along with order tracking, which gives a sense of control and security over all your spending.
2. Better Resource Management and Increased Efficiency
Automating the procurement function helps the process to become swift and seamless and the leaders can have better utilization of their human resources, leading to higher efficiency.
Enhanced order process helps the team to set priorities on tasks of higher importance than struggling with various works that usually require less involvement of human brilliance. All reports and easily accessible and data can be fetched from any department when required, as per the given controls which makes a fine-tune sync between departments like procurement and finance which is important for business operations to run smoothly.
3. Higher Cost Savings
Procurement functions that yet don't work on automated systems have a catalog of their previously trusted vendors which they often consider to go with their purchase. Such organizations could not try out more in the market and explore to get the best deals for their goods/services requirements as it's complex to gather the right information which they can trust on.
With Procurement automation software, we get better-calculated supply needs and can reach several suppliers to get the best possible business deals landing in a higher amount of savings for the contracts.
The seamless operations with procurement automation allow you to reduce any mistakes and hence decrease the add-on costs with contracts and bring up your whole procurement into confidence with deals they make.
4. Better Decision Making
With all the vendors' data and costs in hand and a greater number of quotes, there come more chances of lower negotiations and getting the deals with purchase costs without hampering the quality.
The vendor data allows making better decisions in favor of the business finance and the organization's savings goals.
5. Risk Mitigation
Procurement experts have always claimed the best way to avoid risks is to find out the potential risks and every stage and be better prepared for the worst in each case. With procurement automation software you get the best visibility across your whole procurement cycle thus helping you identify the risks and prepare robust strategies to tackle them.
How do you automate a procurement process?
Frankly, you have two ways to go here if you haven't automated your procurement process yet. The first is quite a lengthy procedure and would cost you more than your obvious budget for this, which is going for an on-premise system. This involves hiring a team of experts to be a part of your organization forever to build systems that requires constant monitoring and maintenance. The other way is to move with the world and opt for SaaS.
Statistics from Better IT research shows that 38% of companies are running completely on SaaS-based systems, and around 80% of business are planning to adopt SaaS by 2025 for all their software needs.
There are various Cloud-based Procurement Automation tools that are fast to implement, affordable, and highly scalable which can help make your process break records of cost-cutting and savings. A cloud-native procurement automation software can prove to be a great asset to your business in facilitating the development, assigning, and managing of tasks that will eventually standardize your business process operations.
The TYASuite Procurement software can be the end to your search for the best procurement software that you can get for an affordable price with an easy and quick implementation cycle in 2022.
.