2022 is here! So, we decided to take a look back and share with you all how Stackby changed in 2021. Stackby released more than 20 updates in 2021. From improved user experience and data syncing, to new security features, we've come a long way.
Let's see all the ways Stackby has changed in 2021 for good.
In 2021, Stackby introduced Stackby Powerups. These are some of the exciting features and tools that can help you recover, import, process, transform or automate your data in the most amazing possible ways. These include the following:
#1 New ways to import data
Stackby introduced a new way to import data directly from Google Sheets and Microsoft Excel into your Stack. Now you can easily turn your spreadsheets into a powerful database with just a few clicks!
If you missed this update, here are our step-by-step video tutorials!
#2 Append data to an existing table
Sharing data between different applications? In 2021, Stackby introduced an easy way to append data into an existing table using a CSV file. Simply select the file you want to append and set the columns to your table.
Here's a short video that explains it all.
#3 Enable Stackby Views
The next few updates are for Stackby Views. A view in Stackby is a subset of a database that represents some specific information. Stackby provides different display options so that users can visualize their data in a better way.
We have grid view, calendar view, kanban view, gallery view, and updatable forms and templates to help you organize your data in multiple ways.
In 2021 we bought some important updates in Stackby views which were:
Locked Views
Now, you can lock your view configuration and prevent your team members from changing its height, columns, filters, colors, or sorting. Keep your presentation organized as is with just one click!
View file Access
Stackby understands how important your data is. So we introduced two ways to restrict view access in 2021. One is by password-protecting your views so that only authorized users can view your data.
The other is to restrict access to your view using the email domain. This means that only users with a specific domain can access your views. This way you can protect your data from being accessed by an outside person by mistake.
De-duplicate or remove duplicates from a table
We know that dealing with the data of a company is not an easy task. Data redundancy may occur at any point and affect your reporting. So, Stackby provided an easy way to remove duplicates from your tables, also known as Deduplication or Dedupe! You can now remove redundant data from Stack or merge duplicates with ease.
API Connectors: New API connectors have been added at the column level to bring related data directly to your tables.
LinkedIn Pages: Bring up LinkedIn Page share, engagement, and follower stats
LinkedIn Ads: Get LinkedIn Advertising Campaign Statistics
CoinMarketCap: Bring real-time cryptocurrency data to track your crypto wallets
SEMRush: Bring your domain, keywords, and backlink data to your SEO projects
New pre-built API functions: We've also added new Google Analytics API functionality to fetch e-commerce data, conversion data, and Google Ads data.
Notices: You can now integrate Stackby with Microsoft Teams and easily send notifications to your team members. You can also choose to send notifications via mobile apps.
Workflow automation: If you haven't tried Workflow Automation apps with Stackby, here's a video to get you started. We also added updated class triggers on Zapier & Integromat and new integration with Syncspider, Blendr.io & n8n.io.
Now, you can access Stackby from anywhere using the desktop and mobile apps. We introduced the latest Stackby desktop apps for Mac and Windows in 2021. We also redesigned the mobile apps for Android and iOS to ensure smooth work on the go!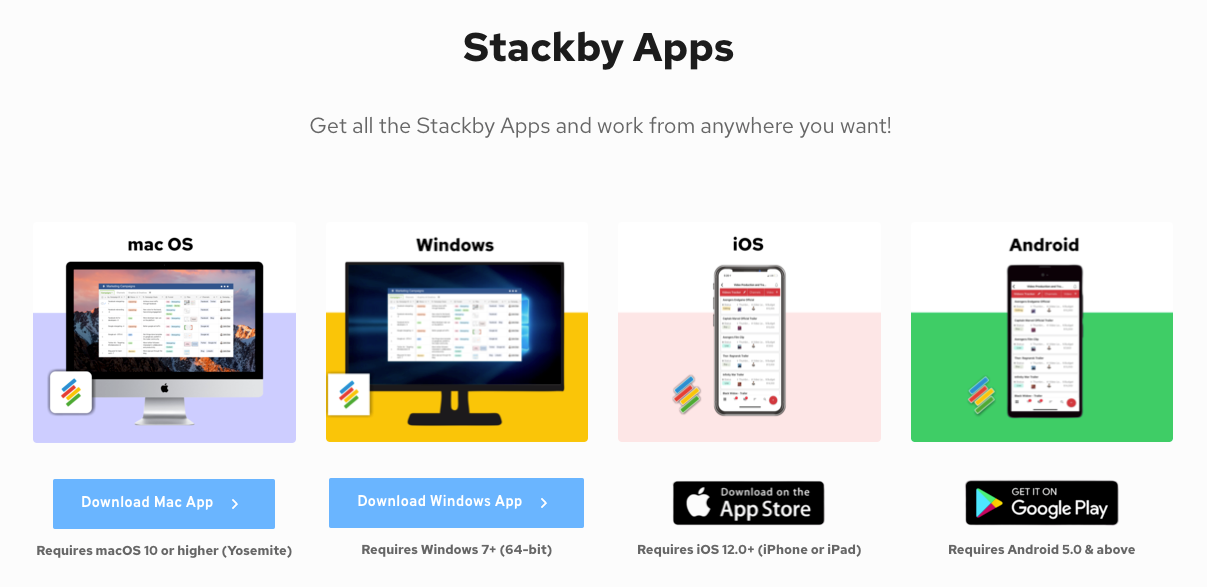 For creators who want to share their Stackby templates with the world, we introduced Stackby One in 2021! Stackby one is a community for creators and a great way to share powerful workflows with other Stackby fans. Let's collaborate innovatively!
#1 View Post Level
Take your collaboration to a new level by sharing views with different Stackby users. You can also set permissions and allow specific access to your view like edit, read only, comment, create, etc.
#2 Data Recovery Features: Recycle Bin and Database Snapshots
In 2021, Stackby introduced three important data recovery features that allow you to easily create backups, restore data, and share data.
database snapshot
When more than one user is working on a stack, there may be a chance that some data has been changed by mistake. Stackby introduced a Snapshot feature in 2021 that allows you to save a snapshot of Stack and restore your data if necessary.
Watch how this cool feature works with this short video.
trash
Stackby also introduced a Recycle Bin feature in 2021 that lets you restore a deleted row, column, view, or even the entire table. Your data is now 100% safe with Stackby.
Discover our Recycle Bin feature today. Here is a short video explaining how to use this feature.
#3 Conditional filters on link, search and grouping
Search and grouping are the two most commonly used column types in Stackby. We improved it for our users in 2021 by introducing conditional filters in search and grouping. You can now filter data more efficiently.
#1 Print classes and send classes
Want to save class data? Want to share a specific row of data with your team? Stackby's got you! In 2021 we introduced an option where you can print a row and save it as a PDF for further use.
#2 More automation on API connectors
Stackby allows you to integrate with popular business applications such as Google Analytics, Facebook Ads, MailChimp, YouTube and more using API connectors. You can associate Stackby columns with APIs to pull information, use services, or push information.
In 2021, Stackby introduced time-limited automation where you can schedule when to bring data from a third-party app into your schedule. You can set this automation to run every three days, two days, etc. at a certain time and even for specific classes.
Automate your entire workflow with Stackby! Learn how to schedule automation on an API connector column with this video.
#3 Coordinate the colors on the rows
In 2021, Stackby introduced conditional color formatting on rows where you can assign a different color to a row based on a specific situation. It is an effective way to visualize your data and speed up your workflow.
#4 Open Stacks directly from Google Drive
You can now sync your Stackby account with Google Drive and access any of your Stacks directly from there. Isn't it much easier to access your data now?
#5 Form Updates
Stackby Forms is a great tool for collecting and organizing data. In 2021, we introduced an important update to Stackby Forms where you can set passwords on updatable forms and set selected selection to single and multiple options on forms.
Don't want everyone to have access to your updatable forms? Stackby introduced password protection on updateable forms where you can password protect your form and make sure only authorized people can access it.
More great features are coming to models in 2022 and beyond.
#6 New column types
Stackby offers a variety of column types so you can organize your data the way you want. In 2021, we added 5 more columns to improve your workflows with Stackby. here they are:
barcode: Now, you can scan barcodes via mobile apps and effectively manage product and inventory data.
Advance: See how your checklists are performing by setting up a progress bar column and visualizing your goals.
Duration: Now, you can also add the Duration column to your table and record the time related information. Be as precise as you like because Stackby provides the duration in hours: minutes: seconds format.
Created by: You can now store information about a Stackby user who created a particular record. When a Stackby user creates a record on your table, their name will be automatically added to the Created by column.
Updated by: Similar to what is generated by column type, we also introduced the update column type which stores information about who updated a particular record.
Button (2022): Make your work flows more interactive with Stackby Button Column Type. In this column type, you can specify a button label and provide the URL for that button. You can use this column to write to do many functions like sending a tweet, sending an email, creating an event, opening a form, and much more.
#7 300+ templates in our template gallery
Pre-built templates are the backbone of Stackby. It helps you to start simplifying your workflow without putting in much effort. It is highly customizable and easy to use. In 2021 we hit a huge milestone with over 300 pre-designed templates in our template gallery.
1. GetApp #1 Leading Database Software Category: Stackby scored 100 points on GetApp based on factors such as ease of use, functionality, value for money, customer support, and likelihood of being recommended.
2. High performance G2 in multiple classes: The G2 marked Stackby as the momentum leader for Fall 2021. Check out what our users are saying about Stackby's performance.
3. Captera Emerging Favorite for 2021: Stackby has got features in Capterra Emerging software for preferred databases, integration software, and digital workplace software.

All the features we introduced in Stackby in 2021 will definitely help companies improve their workflow. Whether it's new column types, easy-to-use templates, automation that triggers over time, and data import and export, Stackby is here to improve productivity, collaboration, and automate your business processes at every step.
But the journey does not end here! Stackby plans to bring more exciting features your way in 2022 including new column types, new App Market, great network improvements and many more. Follow us and sign up for free on Stackby today.